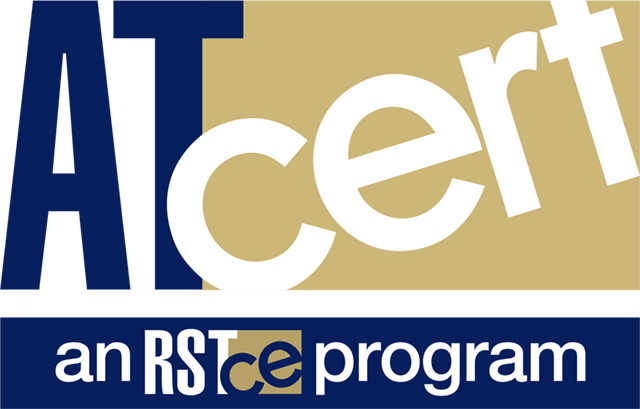 The Assistive Technology CERT course is an online training program that provides individuals with a comprehensive understanding of assistive technology (AT) and how it can be applied to your field of practice. Participation is open to professionals both within and outside of the Veterans Administration (VA) HealthCare System. Everyone with an interest in AT is encouraged to participate, including clinicians, healthcare providers, consumers, researchers, suppliers, manufacturers, policymakers, and more!
The course also assists in preparation for the RESNA Assistive Technology Professional (ATP) and Seating & Mobility Specialist (SMS) certification exams. The University of Pittsburgh does not provide certification, nor do we administer the exam, but the material covered in the AT CERT course covers many aspects of the RESNA exams.
The course includes two parts. The first is eight, monthly online education modules running from August to May. Following this, the course concludes with the "Deep Dive," a two-day, hands-on training session offered in two locations across the country. The Deep Dive covers all course material and allows participants to interact with case studies and ask questions.
The dates and locations for the 2018 Deep Dive have not yet been finalized. However, there will be two locations on two separate dates. Participants will be able to choose which date and location is most convenient for them, and will only attend one of the two events.
For details on last year's (2016-2017) Deep Dive, follow the link below.
2017 Deep Dive Dates and Details (link)
The full course has been certified to provide 3.2 Continuing Education Units, or 32 total contact hours. These credits are provided by the University of Pittsburgh's department of Rehabilitation Science and Technology, Continuing Education, within the School of Health and Rehabilitation Sciences. Participants will receive two separate CEU certificates: one for 2.4 credits for the online portion of the course, and another for 0.8 credits for the Deep Dive event.
Each month covers a different subject within assistive technology, including the following topics:
Crash Course in Disability Studies
Review of Medical Terminology and Medical Aspects of Disability
RESNA ATP Review Course (8 hours)
Service Delivery/Outcome Measures
Disability Ethics
Seating and Mobility

Manual Wheelchair Mobility
Powered Mobility
Alternative Drive Controls

Pediatric Seating and Mobility
Worksite Modification
Augmentative and Alternative Communication (AAC)
Adaptive Recreation
Computer Access
Cognitive Assistive Technology
Environmental Control Units (ECUs)
Adaptive Driving for People with Disabilities
Wheelchair Transportation
Transportation of Children with Special Needs
Blind and Low Vision
Audiology
Office of Vocational Rehabilitation
Funding, Policy, and Documentation
How is the course set-up?
Every month will contain a module including a 60 to 90-minute webinar, downloadable hand-outs, and links to additional reading and resources. Each module requires a commitment of 2-4 hours per month. Participants can view online lectures on their own time and participate in online study groups. Participants will also work as a group to complete case studies regarding a subject with challenges relevant to that month's topic.

Each month concludes with a monthly recitation via conference call. At this time, participants will discuss their case studies with instructors, subject matter experts, and other participants.
Cost of the course is $899.00.
How do I Proceed?
Applications for the 2017-2018 course are no longer available. If you applied for the 2017-2018 course but have not yet heard about the status of your application, please contact Karl Kemmerer at kak216@pitt.edu.
If you are interested in participating in the course in 2018-2019, please notify Karl at kak216@pitt.edu to be notified when we are accepting applications next year.


Contact course coordinator Karl Kemmerer at kak216@pitt.edu.
* Please note that the code provided to persons who attended the ISS 2017 symposium and completed all the course evaluations can be used for 40 hours of online webinars and additional CEU's.
This code is NOT valid for the RESNA Review Course, or the AT CERT course.
---
Updated | 08.01.2017